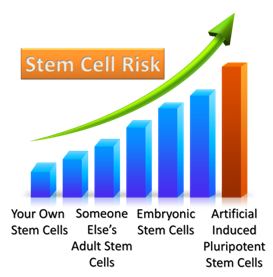 How safe are adult stem cells? This has become a hotly debated argument. There are financially conflicted scientists who frequently cry wolf over the safety of adult stem cells. Taken from your own body, then expanded to a therapeutic dose, mesenchymal stem cells are showing promise for treating many previously incurable illnesses. Why the objections? Theses scientists hold patents in, or receive grant money for, embryonic or IPSC stem cell research, which could be threatened by this safer therapy, already in use and saving lives today.
Paul Knoepfler, PdD, a scientist at UC Irvine pursuing induced pluripotent stem cell (IPSC) research, is one of these critics. In his blog he challenges patients who have had adult stem cell treatment: Critically reading science papers: response to patient on MS stem cell literature.
As evidence of danger, he presents 3 reports covering 9 patients that had adverse outcomes.
Patients For Stem Cells conducted some fact checking. We found 66 studies in pubmed.gov, showing there have already been over 2,154 patients treated with their own EXPANDED mesenchymal stem cells. These reports consistently conclude treatments were well tolerated, with little to no side effects other than transient fever, and that further research is warranted. This is evidenced by the 1,630 patients in 54 EXPANDED mesenchymal stem cell trials currently underway, listed at clinicaltrials.gov.
See our report on these findings How Safe Are Stem Cells?.
Arnold Caplan, PhD, from Case Western Re serve University and a leader in stem cell science has recently stated that more than 250 mesenchymal stem cells trials are ongoing or completed. The 120 trials we found are a subset of this larger number, because we limited our search to expanded or cultured cells, since this is what the critics have been crying wolf over, and calling for the FDA to withhold this life saving therapy from patients.
We challenge the critics to disprove the growing evidence base that shows adult stem cell therapy is safe.
Samantha Wilkinson,
Member, Patients for Stem Cells
www.patientsforstemcells.org